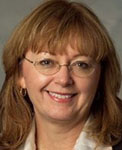 Clarissa Sawyer
Lecturer, Natural and Applied Sciences
Ed.D Administration, Planning and Social Policy Harvard Graduate School of Education
EdM Harvard Graduate School of Education
BA University of Massachusetts Boston
Office: Jennison Hall - 224 | 781.216.7110 | csawyer@bentley.edu
Department Phone: 781.891.2980 | Department Fax: 781.891.2838
Teaching Interests
Adult development and aging, gender psychology, social psychology, qualitative research methods
Research Interests
Contributions of a positive psychology-based conceptual framework in reducing physician burnout and improving well-being.
Consulting/Practice Interests
High consequence industries where human life or quality of life is at stake, including heath care and aviation; participatory action research.
Bio
Prior to joining the Bentley faculty, Dr. Sawyer was an organization development consultant for Second Curve Systems, the MITRE Corporation, the Federal Aviation Administration, and Arthur D. Little. She previously taught at Boston University's School of Public Health, Lesley University, and the University of Massachusetts Boston. Clarissa Sawyer earned her bachelor's degree in adult training and development at the University of Massachusetts Boston, and her doctorate in Administration, Planning, and Social Policy with a focus on organizational behavior and leadership from Harvard University.
Professional Links
Professional Memberships
Boston Facilitators Roundtable 2020 - Present
New England Psychological Association 2018 - Present
Bentley Health Thought Leadership Network 2017 - Present
Society for the Teaching of Psychology 2017 - Present
Association for Psychological Science 2017 - 2017
Presentations
Sawyer, C. L. (2018). "Using Action Research to Teach Introduction to Social Psychology" Presented at the Bentley Office of Diversity and Inclusions Diversity and International Intensive Faculty Symposium Waltham, MA
Service
Department Service
---
Committee Member for Natural and Applied Sciences, Assessment and Assurance of Learning Committee 2017 - Present
Workshop Designer and Facilitator for Natural and Applied Sciences Social Justice Syllabus Design Tool Workshop 2020 - 2020
Committee Member for Tenure Track Cognitive Psychology Search Committee 2019 - 2020
Task Force Member for NAS Fact or Fiction Working Group Workshop - 2018
Committee Member for Psychology Curriculum Self-Study Committee, Natural and Applied Sciences 2018 - 2018
University Service
---
Committee Member for Sexism at Bentley Working Group 2020 - Present
Task Force Member for Racial Justice Task Force 2020 - Present
Committee Member for Bentley's Coordinated Community Response Team 2020 - Present
Committee Member for Bentley Learning and Teaching Council 2019 - Present
Member for Bentley Health Thought Leadership Network 2018 - Present
Task Force Member for Bentley Beliefs Working Group 2018 - 2019
Other for Strategic Planning Process - 2018
Member for Bentley Health Thought Leadership Network - 2018